Ever under constrution




FIGHT FIGHT FIGHT.
Fight against racism, nacionalism, nazism, fascism, sexism.
Fight for a better world, a world where equality, justice and fraternity order.
Fight for a multiracial and tolerant society.
This page is dedicated to the divulgation of other pages relationed with the FIGHT against the related things said before.

DANGEROUS IDEAS ARE BETTER FIGHT WITH THE DIVULGATION OF BETTER IDEAS.


FUCK CENSURshit !!!






The Antifascist Web
Anti-Racist-Action
Refuse & Resist
Antisexist Alternative
East Timor Human Right Center
TimorNet
A great page about the situation in Timor
Timor Home Page
Timor in PortugalNet
Cuba Solidarity Web Page
Loug Haul Infoshop Homepage
!BURN!!
Free Leonard Peltier
Free Mumia Abu-Jamal
Legalize !


If you know more good sites, then email me and i will put them here, ok ?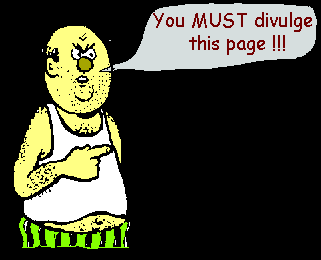 THIS PAGE IS EVER UNDER CONSTRUTION, PLEASE COME AGAIN


---

a.amaral@mail.telepac.pt



There were

visits since this page was created, in 26 of October of 1996